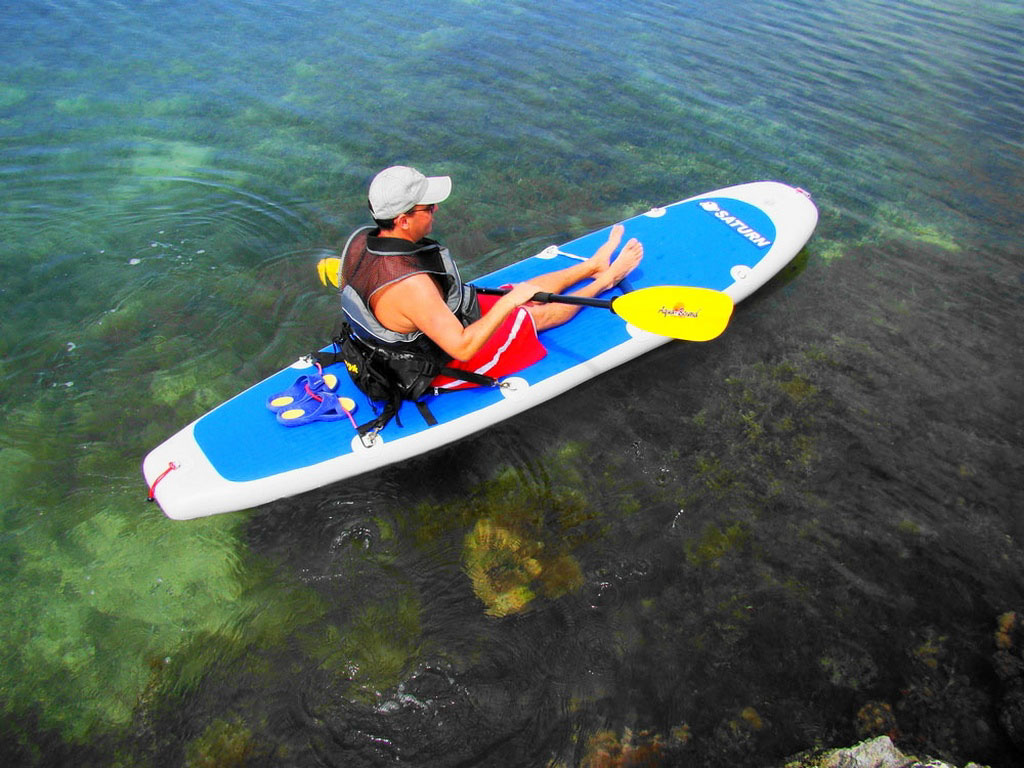 Most avid kayakers are used to the hard nose big kayaks that most would instantly bring to mind. These vessels have been a staple in the industry for a long time now and users were forced to deal with transportation and storage issues ever since. That all seems to be changing as inflatable kayaks gain more traction and respect among dedicated boaters.
Logistics Problems of Traditional Kayaks:
Not to state the obvious, but kayaks are a pain to transport, store and take care of. These happen to be the biggest benefits in switching to inflatable kayaks. Users are accustomed to dragging a heavy kayak out of the garage tying it to the roof of their vehicle and trying to scratch it in the process. The fact is, you can get rid of all these problems with an inflatable kayak.
Inflatable Kayak Benefits:
Inflatable Kayaks are light. They're versatile. Instead of dragging a large kayak out of your garage you can just put an inflatable in the back seat and blow it up on location. The benefits of this are tremendous. Not only are you saving storage space, but you are also saving the roof of your car. You actually save yourself this hassle twice, because when it comes time to take it home it just deflates again saving space, time and your car.
You may think there are downside to the inflatable kayak, but we haven't really found any. The material of top brands like Saturn is so durable that we think they will actually last longer than traditional kayaks that can break on heavy impact. Furthermore, the 3 chamber Saturn inflatable kayaks will not sink; and yes we have heard some horror stories with traditional kayaks.
In short; Inflatable kayaks offer more freedom and versatility than traditional options and avid users are using them more and more with many additional uses. There is even this cool video of the guys from www.boatstogo.com surfing the waves in theirs.
Verdict: Inflatable kayaks are the way to go to save time, space, money, your car and peace of mind.

The innovative crossover between an inflatable boat and kayak by Saturn has shown some impressive functionality against traditional boats and Kayaks.  Simply put the Kaboat creates the best of both worlds from Kayaking and Boating and delivers them in a sexy new design.
This slim design is what lets the Kaboat rip through water at speeds much faster than traditional inflatable boats abundant throughout the industry.  Yet there is still space for an outboard motor and supplies.  So you get all the normal boat functionality at much faster speeds and more efficient water resistance.
The inflatable tube chambers is the beginning of what makes this different from a Kayak.  In fact, these boats barely resemble a Kayak at all, except when it comes to water resistance and potential speed.  The inflatable chambers provide a comfortable and safe experience that you would expect from a full size inflatable.  The rigid material has been remarked upon across the internet as being highly durable in some of the worst conditions.
At the end of the day, the Kaboat posts some impressive speeds and attributes due to it's unique design.  Only Saturn's Kaboat provides you with the sleek speed potential of a kayak with all the safety and security of a normal boat.  There's nothing like being able to securely take out all your tackle while having the versatility to rip through the water at faster speeds and to fit into tighter spaces.
The Saturn Kaboat is truly a unique invention that should be owned by every fisherman and water sports enthusiast alike.  Check out the Youtube video below for a demo, or go to Saturn Kaboats for more details.
The following video demonstrates the simple process to replace an air valve on an inflatable kayak, boat or raft.  In short, the 4 easy steps are:
1.  Fully inflate air chamber.
2.  Insert valve tool into the valve and start applying force in counter clockwise direction.
3.  Let air escape and hold valve bottom with hand through the fabric while unscrewing the top.
4.  While holding bottom of valve with hand, insert new valve top, screw it on and tighten very hard.
This video below will walk you through the process:
Ever wanted to hear your favorite tunes while surfing the waves, riding your kayak or cruising in your boat?  Sure the ocean breeze sounds nice, but sometimes you just need some good music to accompany you on the water.  There hasn't been any affordable options to bring your tunes with you while in a wet environment until now.
Boatstogo.com has just released their Outdoor Portable Waterproof MP3/FM Stereo Boombox System for only $29, finally bringing down the price to an affordable level for the average consumer to get surprisingly high-quality penetrating water-proof sound.  Enjoy your favorite music on a boat, kayak, beach, picnic, campground, home, office, or anywhere else.  This system comes in a very small package that easily fits in your pocket, yet produces very impressive sound quality.  An In-line auxiliary connection allows playback from your iPhone, iPod, or any other music device and the system is even sophisticated enough to play your favorite MP3 songs directly from a portable SD Memory Card, or USB Flash Drive, which makes one wonder how they jammed so much technology in such a little box for such a small price.
The Portable MP3 Boombox Stereo System also comes with an easy to use FM Radio.  Just press the Play button to scan and add all available local radio stations to presets.  No confusing menus or displays. Just 3 large buttons to make it a breeze to operate, even by the technically challenged or elderly.  The SD Card option is also a very cool feature.  Now you can mail someone, like your parents, a music collection on an SD Card in an envelope, for easy plug-and-play, helping them eliminate the guesswork in getting new music!
This mini boombox produces excellent sound quality, is lightweight and portable, has an easy to use FM radio, comes with LOUD 3W+3W high-fidelity speakers with up to 4-5 hours of playback on a single charge.  Not only that, but for $29 it comes with a slew of free items...   A free waterproof and dirt proof dry bad; a free @GB SD memory card; a free rechargeable, replaceable and widely available Li-Ion Nokia battery; free USB/Mini USB cable for quick charge from 5V wall adapter (included); free aux line-in cable for IPhone, IPod or other MP# player; and a free batter charger.
How Boatstogo.com was able to cram all these items in at $29 and still come up with a high quality product?  We have no idea!
This is the only portable and affordable system in the world, ready for natures worst, allowing you to bring your music just about anywhere, easily copy and play from a variety of hardware and just drag and drop MP3 files from your PC to tiny SD cards for portable playback.
You can often repair minor damage right there using normal emergency repair kits that come on most boats.  Small leaks may be caused by pinched fabric, punctures, and cuts that occur while the boat is being put out or is in use.  You will likely make the repair right there on the spot, or somewhere else where conditions are a bit rough.
Most experts say emergency repairs made with the repair kit are short term and should be replaced properly as soon as it makes sense to do so.  My old Saturn had a number of "temporary" repairs that lasted longer than three years and are still working today.  If a repair is holding air and it's edges aren't curling, I would just leave it alone.  No reason to reinvent the wheel if it aint broken!
The Max persons capacity displays how many people the boat can transport safely. In general, when calculating maximum comfort level on an inflatable boat, you will need to deduct 1-2 persons from the max boat capacity. For instance, the SD260 will comfortably seat 1-2 people, SD290/330's 2-3 people, SD365/385 3-4 people; SD430's will accommodate 4-5 people comfortably.
In general, if you are planning to inflate/deflate your boat often, then select a boat with a high pressure air floor. It is a great deal easier to inflate and deflate boats with high-pressure air deck floors than boats with plywood floors or hard floors. It takes more time and skill to assemble a plywood floor. If you keep the boat fully inflated for at least 1-3 weeks then choose a boat  with a plywood or hard floor. If you keep the boat in your car's trunk and inflate it for only a day of fishing, then you will find it easier to deal with an air deck floor. A hard floor will not be a problem for you, if you keep the boat on a trailer or in a dock.